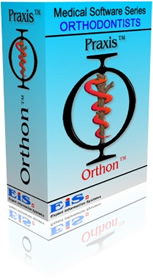 The Praxis™ Orthon™ for Orthodontists
Orthon™ is a medical management software package designed exclusively for orthodontists. Designed and developed in Switzerland and was upgraded in Greece, taking into account the requirements of modern dentistry. Dentists of all specialties contributed to its development. Orthon™ is the basic Medical Software tool to manage your Dental Practice.
"Praxis™ Orthon™ is so simple to use that increases the Clinical Time to the Benefit of your Patients."

Orthon™ allows you to design and use your own Cephalometric Methods. Most of the Parameters used in a Cephalometric Method are incorporated into the program.
The open architecture design of Orthon™ and the embedded rules of our business model, (CBM™), classify it as a fairly satisfactory tool for Orthodontists that recently started their medical practices.
It is distributed freely and paves the way for the ideal software tool to get full control of your Dental Practice which is none other than our own flagship ERP program named ePraxis™.
Most of you get in touch with us and request a demo. We offer you a much better solution!
"Download and make use of the program Anonymously and FREE here!"
The User's Guide and Technical Advice are incorporated into the Installer.
We hope that our gesture to distribute Praxis™ Orthon™ freely is to have positive effects on the management of your dental practice and to the benefit of your patients.
"We wish you good and constructive use of the program ... and waiting for your comments!"