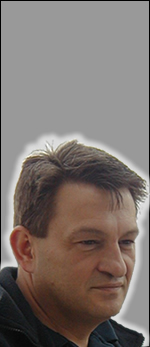 Lefteris Georgiou, B.Sc., M.Sc.
Lefteris graduated as an Aeronautical Engineer from Queen Mary College, University of London, (UK), in 1979. He served his 2-year National service at the Research Institute of the Hellenic Air Force where he was involved in flutter clearance techniques for fighter aircrafts. In 1982 he received his Master's degree from the Offshore engineering department at Cranfield Institute of Technology, (UK), specializing in structural dynamics.
Prior to his university entry he was lucky enough to realize that computers and programming techniques was the future for all trades and he spent his summer vacation, (1975), as a guest at Middlesex university gaining self taught experience in the FORTRAN compiler.
Lefteris' first 6 years of industrial experience was developed within an international defense company, (based in Brussels, Belgium). He was exposed to all sciences involving engineering, mathematics, statistics, electronics, chemistry and space dynamics. He was also involved in the analysis and design of space rockets.
During his first 6-year tenure he co-authored and developed software codes for the Static and Dynamic Response of Space Frame structures based on the Finite Element Method. Lefteris trained the personnel at Beijing and Nanjing universities, (Peoples Republic of China), on the use of those codes. During the same period he was appointed senior project engineer at EBO Greece, (Hellenic Arms Industry), for the modification of their Howitzer gun systems.
Lefteris however realized that designing and analyzing killing machines was not his life style. He resigned in 1991 from those kinds of activities and since then he became an independent consultant first for the Gas Turbine industry. He helped in designing and analyzing Industrial Gas Turbines for ABB in Baden, Switzerland during 1991-1992.
In 1992 based in Aberdeen Scotland and on a contractual basis, Lefteris organized and provided services based on the Finite Element method to UK Offshore firms.
On his return back to Belgium Lefteris got involved with the automotive industry for passenger safety matters and car interior parts and accessories. Through his association with Techno Consulting bvba provided consultancy services in parallel to other industrial sectors such as water purification producers, cabling and plastics industries by designing, analyzing and optimizing their products.
Since 1992 Lefteris was involved in the design and testing of Safety Nets and interior car component optimization for the automotive industry. Lefteris paid a lot of attention to dynamic testing and he was the crash test engineer representing his clients to TÜV Rheinland, (Köln, Germany), TNO, (Delft, Holland) and Millbrook, (UK). He developed and fine-tuned a general FE model of a car safety net for 2 years saving his clients funds from unnecessary preliminary crash tests. In December 1996 he developed on behalf of his client the world's first Floor Net to withstand 25 g's under a mass of 108 Kg. Lefteris likes to get his hand dirty by developing and building crash test beds and various prototypes for certification purposes. In close liaison with TÜV Rheinland, Lefteris involved with automotive safety regulations based on the DIN 75410-2 specifications.
As a university student he was attracted to the Finite Element Method, (FEM), for solving engineering problems so much that since then he is actively engaged with the subject. Lefteris has written articles for CAD magazines in Belgium and France on the use of the FEM in general. In addition Lefteris presented his work on the automotive safety nets at the 1996 ANSYS Users Conference, (Pittsburg, USA).
In 1997 at the peek of his career he took a sabbatical leave from every day engineering activities to develop software products for the Commercial and Health Sectors. His aim was to develop and distribute software products to help small to medium size enterprises, (SME'S) and to bring his ideas and organizational experience to life. Lefteris software development skills and previous engineering experience were enough for him to develop his proprietary business model that was appropriately named the "Controller Business Model, CBM".
In addition the new challenges brought Lefteris closer to managing and serving people from all walks of life giving him a better appreciation of what is real business life and the strive for personal progress.